Looking for a certain plant? Search this site:

Get instant curb appeal!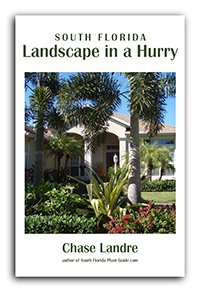 An ebook by
Chase Landre
author of
South-Florida-Plant-Guide.com

Learn how to get instant curb appeal with fast growing plants and landscaping techniques!

---
Blood Lily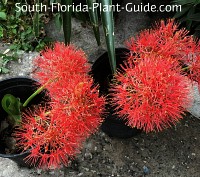 Here's a bright scarlet spring bulb that works very well in pots as well as in the ground.

The tiny red flowers form a six-inch globe of color on an 18-inch (overall) plant. Bloom time is short (about 1 to 2 weeks) but truly spectacular.

Blood Lily (Scadoxus multiflorus) prefers dappled to full shade, and will naturalize (spread) in the ground to form a drift of brilliant spring color.

Give the plant regular water, and fertilize in spring, summer and fall with a standard fertilizer for plants in the ground, or use 20-20-20 liquid feed for potted plants.

This plant is said to contain toxins - keep out of reach of pets and kids that may munch.

---
Take a break!
The ultimate guide to low-maintenance plants
and landscaping!

An ebook by
Chase Landre
author of
South-Florida-Plant-Guide.com

---
---
Don't be guilty of 'crape murder'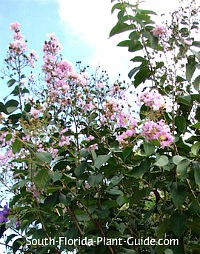 Crape Myrtle 'Basham's Party Pink'
We're often tempted to get carried away with pruning...and going way overboard on cutting back crape myrtles will damage the plants - for life.

Prune too hard and the result will be ugly, knobby dead ends on branches and trunk and weakened new shoots.
Instead, leave some length on the branches you're cutting. Never cut back all the way to the trunk.

See our Plant Page on Crape Myrtles for more info on growing these plants.

---
---
Take a crash course!


Ebooks on South Florida gardening!

by Chase Landre, author of South-Florida-Plant-Guide.com

---