Your Monthly Grow-zine

May 2019

Things to do in the garden this month...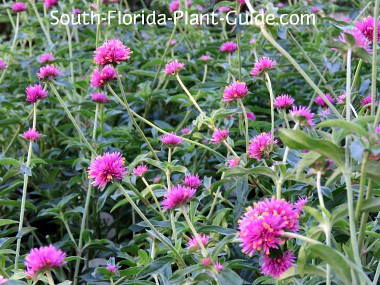 Gomphrena 'Truffula Pink'
Plant summer annuals! Visit your locally-owned nursery for favorites such as Zinnia, Gazania Daisy or Begonia - or look for new and different varieties such as the Gomphrena pictured above. This pretty plant grows about 2 feet tall in full to part sun, and the little blossoms make long-lasting cut flowers.

Water twice a week (if no rain) - if temperatures are very warm.

Fertilize! Get your 'summer" fertilization done this month before the fertilizer blackout starts. The blackout - June 1st through September 30th - affects many counties in Florida...contact your county extension office for regulations where you live.

---
---
---
Sedum

This hardy succulent works as a groundcover, front-of-the-border plant, or swirling around rocks - or grow it in a container and let it "waterfall" over the sides.

Sedum is rich in foliage texture - and then in late summer many varieties actually bloom, with flowers in yellow, white, or rose that attract butterflies.

The foliage colors can vary in shades of bright green, gray, chartreuse, maroon, and variegated.

Sea Urchin
Some varieties prefer sun, others do best in part sun or even part shade. Ask at the nursery when you buy.

Chinese Sedum grows in sun or shade but in shade it will green up and look its best.

Lemon Coral
---
There are so many varieties of Sedum it's hard to pick just one. Interplanting different ones can give a unique look to the planting bed.

These plants are drought tolerant once established, and they must be planted in a well-drained area...especially important in South Florida's rainy season.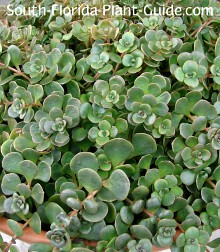 Chinese Sedum
---
---
Want to take it easy this summer?
Keep things small...with a growth regulator

---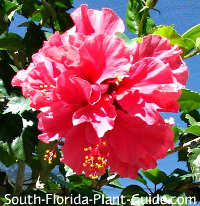 Hibiscus 'Jamaica Red'
Sometimes you see "Dwarf Hibiscus" for sale.
But these are actually full-size hibiscus that have been treated with a dwarfing hormone - AKA growth regulator.
In several months they will grow into full-size plants.

Unless...

...you continue to treat them with a growth regulator to keep them small.

Nurseries and growers sometimes use this type of product to keep a plant more compact and full, with greener leaves and lots of flowers. It's often used in the art of bonsai, as well.

But homeowners generally have no idea this is something they can do so there's less trimming needed for shrubs. 

Before applying, trim the shrub back to the approximate size you'd like to keep it.
I have to tell - you this stuff is astonishing! I cut back my huge Lakeview Jasmine (which hardly ever blooms) less than two weeks ago, applied a growth regulator, and today every branch has new growth and is covered in buds and flowers!

How long the dwarfing agent lasts depends on the strength of the dosage used. Continued use doesn't harm the plant.

However...these products are EXPENSIVE. Be sure to read labels before you purchase. There are some available on Amazon and you might find a local nursery that sells them. If the nursery grows their own plants they may agree to sell you a small amount to try.

For more info, check out this article

---
---
---
What's new at South-Florida-Plant-Guide.com

I added this photo of the leaf detail to the Plant Page on one of my favorite plants - green arboricola.

Why is it a favorite? It's so versatile...sun or shade, hedge or accent or privacy plant, tough, cold hardy, pest resistant, tropical good looks - what's not to like?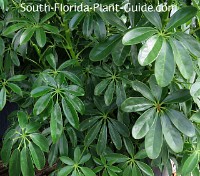 ---
---
My latest ebooks are here!


"Best of the Grow-zines"


All the best info and ideas from past issues of our monthly newsletter - The Grow-zine!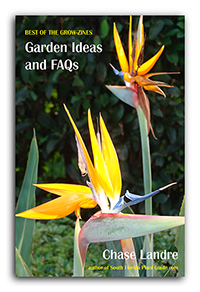 Garden Ideas & FAQs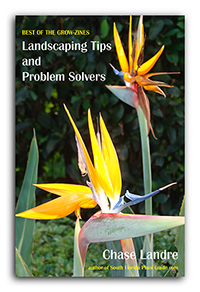 Landscaping Tips & Problem Solvers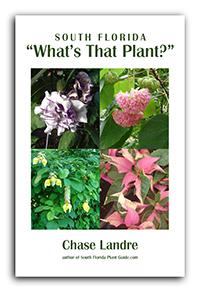 Buy both "Best Of" ebooks & get this one FREE!

---
---
Are you a Snowbird?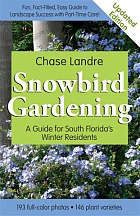 Want to know more about growing a beautiful landscape with only part-time care?
Check out the new, updated edition of my paperback book, Snowbird Gardening.

I've added more plants, more photos and up-to-date info for South Florida Snowbirds.
This new edition features 146 plant varieties - palms, shrubs, trees and flowers - with photos and information about each one.
---
Thanks for subscribing to the Grow-zine!

If you have any questions, comments or suggestions about what you'd like to see included in the Grow-zine - or the website - please let me know!
Chase Landre