Your Monthly Grow-zine

November 2019

Things to do in the garden this month...

Winter Annual Petunias
Shop for new plants - and winter annuals - at your locally-owned plant nursery.
Don't overlook white as a flower color. It catches the eye when planted en masse, and highlights the beauty of other colors when planted with them.

Water once a week if no rain.

Apply weed and feed to your lawn. Early November is the right time for this.

Watch out for pest damage. Take bagged cuttings to your local nursery for diagnosis and treatment options.

---
"Should I plant in odd numbers?"
This landscaping rule of thumb is based on the fact that Nature is normally "odd." Natural plantings tend to fill in a spot in irregular and random patterns.

When our eye sees an even number of plants - such as 4 or 6 - our brain pairs things off. We see the plants in pairs, and they look lined up, forced, and unnatural. Sometimes they seem to call attention to themselves and we can't appreciate the flow of the rest of the landscaping.

Odd numbers make it impossible for us to visually pair off plants, so they look more like nature did it...and it's more interesting, more pleasing to the eye.

But there are exceptions!
When 4 shrubs around a tree will fit better than 3 or 5, and if they will eventually grow together as they mature, using an even number is fine. However, if the plants you're using have a definitive shape, such as Agaves, use odd numbers.

For larger numbers such as a line of hedge plants or a grouping such as the Dwarf Yaupon Hollies pictured above, both odds or evens are fine.

---
Stoplight Pilea

Pilea serpyllacea 'Stoplight' is a shrubby little plant with the look of Artillery Fern (and it's a relative).

This Pilea takes sun or shade, and only grows to about 2 feet tall (and 3 feet wide). It has a lovely cascading habit, and makes a soft-textured, almost fern-like statement when planted in a front-of-the-border line or grouped for a groundcover effect.

The name 'Stoplight' refers to the tiny red flowers lining the stems. The plant blooms off and on all year.

Give it more sun and Stoplight will grow denser...in shade it grows more open - and both ways are lovely. This plant is cold hardy, fine anywhere in South Florida, and it needs regular watering. It makes a great container plant, a pretty addition to a patio garden or in pots by the front door.

Stoplight is not typically available at nurseries but your nursery should be able to order it.

A visitor asks...
"I want to plant a hedge of hibiscus. Should I stick to one flower color or can I do all different ones?"

It depends on the look you want. It will have more impact and flow if you do all one color. But this is your landscape, so it should be what makes you happy.

---
What's new at South-Florida-Plant-Guide.com

---
My latest ebooks are here!


"Best of the Grow-zines"


All the best info and ideas from past issues of our monthly newsletter - The Grow-zine!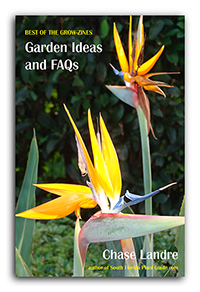 Garden Ideas & FAQs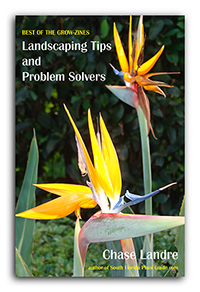 Landscaping Tips & Problem Solvers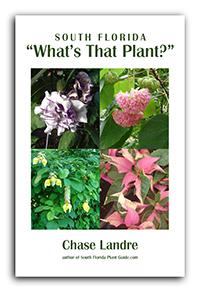 Buy both "Best Of" ebooks & get this one FREE!

---
---
Are you a Snowbird?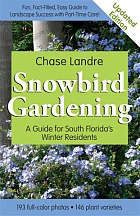 Want to know more about growing a beautiful landscape with only part-time care?
Check out the new, updated edition of my paperback book, Snowbird Gardening.

I've added more plants, more photos and up-to-date info for South Florida Snowbirds.
This new edition features 146 plant varieties - palms, shrubs, trees and flowers - with photos and information about each one.
---
Thanks for subscribing to the Grow-zine!

If you have any questions, comments or suggestions about what you'd like to see included in the Grow-zine - or the website - please let me know!
Happy Thanksgiving!

Chase Landre
---