Your Monthly Grow-zine

October 2021

This is some of the finest weather we have in South Florida...usually starting in the middle of the month, temps go down a little, humidity goes down a lot, and working in the garden becomes a pleasure again.

Things to do in the garden this month...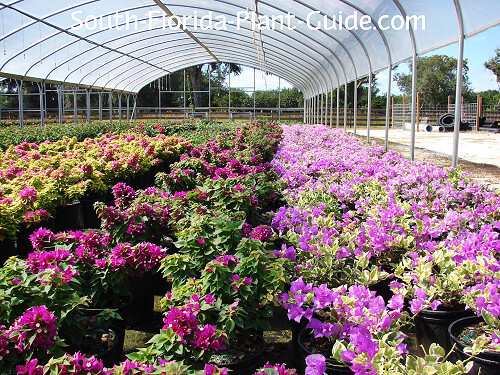 Bougainvillea growing at nursery
Shop for new plants!  Since the weather is going to be more comfortable, this is a great time of year to visit your locally-owned nursery for something new and exciting for the garden.

Wait to plant winter annuals! It's still too hot for them, even though you'll see them showing up at box stores.

Fertilize - Feed azaleas and gardenias...TODAY! This is the latest they should be fed until after their spring bloom. Use fertilizer specially formulated for these shrubs.

Give a fall feeding to other plants that require it. If there was a fertilizer blackout in your county this summer, it should be over today. Not all plants need fertilizer now - check the Plant Page on each plant for its specific requirements. (See our page on Fertilization for what to use and how to use it.)

Cut things back that need it. Do any last-minute hard pruning before October 15th. A light shaping trim can be done anytime of year but for heavier pruning, do it now.

Water - two times a week if it's still quite hot (and hasn't rained). Once the temps cool down (which may be this month or next) you can back off to once a week.
Note that October is traditionally one of the two driest months of the year (May is the other), so don't forget to keep up with this.
Freshen up mulch that's been shuffled around by summer rains or just plain seen better days.

---
Tea Olive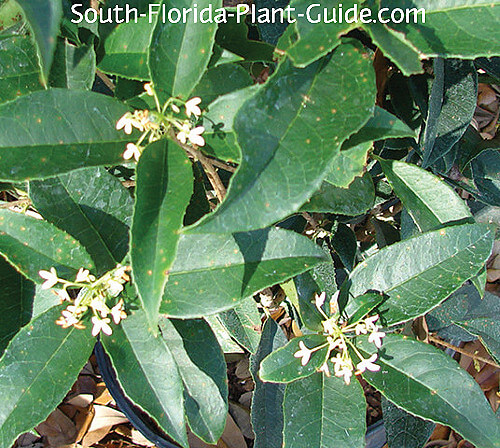 Some years ago I worked at a nursery that carried Tea Olive (Osmanthus fragrans). A favorite pastime was watching customers come into the shade house, stop suddenly, and exclaim, "What smells so good?"

Tea Olive always has that effect - the flowers smell so exquisitely sweet, one of nature's finest perfumes, that they make you stop, inhale, and close your eyes in pure pleasure.

This large shrub can be kept about 5 feet tall, or up to 20 feet if grown as a small tree.

It's cold hardy, actually preferring Zone 9 temps, but can be successfully grown in Zone 10 if it's placed in a part shade situation. Morning sun and afternoon shade is ideal.

The tiny flowers appear during several bloom cycles a year, and are usually creamy white, though there are cultivars with golden yellow or orange blooms.

A moderate to fast grower, Tea Olive prefers regular water and a spring and early summer fertilizing. It has an upright growth form so you can plant as close as 3 to 4 feet from each other or other large shrubs.

Use this plant as a backdrop for other plants, or as a single specimen. Plant near the patio, pool cage or other area where you can enjoy the heady scent of the flowers. Some sources say it makes a good hedge but I caution against too much of a good thing when it comes to fragrant plants.

This is said to be a deer-resistant plant, but no guarantees.
Your nursery can order a Tea Olive...if you prefer tree-form, order it already trained that way.

---
What's new at South-Florida-Plant-Guide.com

I've enlarged a few pics that deserved larger size to do them justice, including the fabulous Hair Grass.
Compare this pic to the larger one on the Plant Page's link and you'll see what I mean.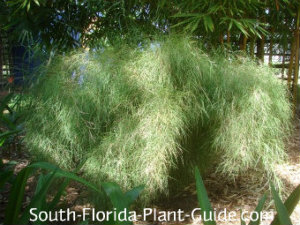 Hair Grass
---
---
My latest ebooks are here!


"Best of the Grow-zines"


All the best info and ideas from past issues of our monthly newsletter - The Grow-zine!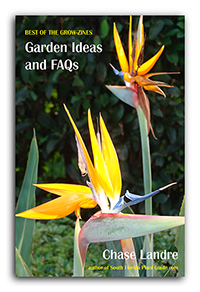 Garden Ideas & FAQs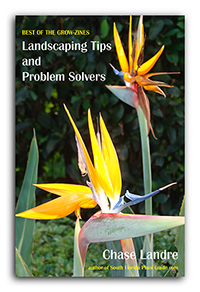 Landscaping Tips & Problem Solvers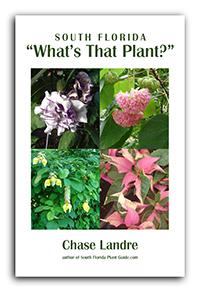 Buy both "Best Of" ebooks & get this one FREE!

---
---
Take a crash course
in South Florida plants!
Ebooks all about gardening in South Florida! Learn more!


---
Thanks for subscribing to the Grow-zine!

If you have any questions, comments or suggestions about what you'd like to see included in the Grow-zine - or the website - please let me know!
Chase Landre

---