Your Monthly Grow-zine

September 2020

Things to do in the garden this month...

'Snow Queen' Hibiscus standard
Enjoy the "fruits" of your labors! The beauty of our landscaping is now at its peak, with lots of flowers and lush foliage.

Visit your favorite plant nursery to add color to your gardens. It's too late for summer annuals and too early for winter ones, so pretty perennials - which are longer lasting anyway - should do the trick.

Stake any young trees or newly planted tall palms in preparation for our fall season of tropical storms.

Run your irrigation twice a week if it hasn't rained.

Watch for bugs. Take bagged cuttings of any pest-damaged plants to your local nursery for diagnosis and treatment recommendations.

---
Rose-of-Sharon - a different kind of hibiscus
A friend gave me a cutting of this plant, calling it a "purple hibiscus." But after doing some research I discovered it's not the typical hibiscus shrub (Hibiscus rosa-sinensis) but a cousin (Hibiscus syriacus) that differs in several ways.

Sometimes called Althea, Rose-of-Sharon grows more upright, more slowly, and with more open foliage than the hibiscus we're used to.
It's also very cold hardy - and may even prefer Zone 9 temps. It may lose leaves if winter is especially chilly. It can even die back if grown in more northern areas of the U.S. but comes back in spring.

The flowers may be single or double, and they seem to last longer than the typical Hibiscus shrub. Blossoms open during the day and close at night.

Rose-of-Sharon blooms the most during warm months, and flowers come in pink, red, violet, blue or white, depending on variety. Newer cultivars have some striking color combinations, with unusual throat colors.

Sources say sun to part shade works fine, but in our area this plant seems to prefer a bit of afternoon shade, so the East side of the house could be a perfect spot.

This shrub can grow large - 8 feet or better - but you can trim to about 6 feet. Only do light trimming rather than hard pruning. Fertilize in spring and give it regular water...this is not a drought-tolerant shrub.

Older varieties of Rose-of-Sharon are very invasive, but newer ones have been bred to be sterile so they won't get away from you. This plant also contains toxins that are harmful if ingested by dogs, cats and horses, though it's not harmful to people.

My plant is doing quite well in a container (I decided to keep it in a pot on the patio in case it's an older, invasive variety) as long as I remember to water it regularly! These plants are occasionally grown in tree form.

Rose-of-Sharon is not something you'll find at a plant nursery, so you can grow from a friend's cuttings, or look for it online or at rare plant sales.

---
Design tip
When planning a landscape design, it helps to draw in circles or ovals on your overhead design drawing with the following zones noted:

entry
quiet - outside bedrooms, home office

service - the A/C, pool pump equipment, trash cans
activity - kids' play areas or for family games like horseshoes, pool area
entertainment - grill area, outdoor seating, fire pit
work - working on home projects - potting shed, woodworking, etc.

These notations can help you decide what to plant (or not) - and how much to fill in (or not) for each of these zones.

---
---
What's new at South-Florida-Plant-Guide.com

For those web visitors who want to search the site for a particular plant, the Sitemap will help. I've added the heading "Search for a Plant" above the Sitemap on the nav bar to make it a bit plainer that that's the easiest way to search.

---
---
My latest ebooks are here!


"Best of the Grow-zines"


All the best info and ideas from past issues of our monthly newsletter - The Grow-zine!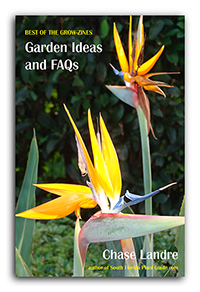 Garden Ideas & FAQs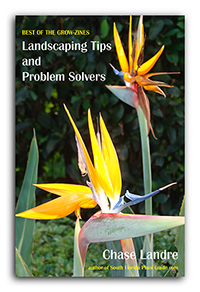 Landscaping Tips & Problem Solvers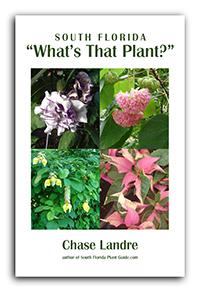 Buy both "Best Of" ebooks & get this one FREE!

---
---
Are you a Snowbird?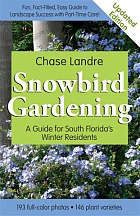 Want to know more about growing a beautiful landscape with only part-time care?
Check out the new, updated edition of my paperback book, Snowbird Gardening.

I've added more plants, more photos and up-to-date info for South Florida Snowbirds.
This new edition features 146 plant varieties - palms, shrubs, trees and flowers - with photos and information about each one.
---
Thanks for subscribing to the Grow-zine!

If you have any questions, comments or suggestions about what you'd like to see included in the Grow-zine - or the website - please let me know!
Chase Landre
---