Magnolia Tree
Magnolia grandiflora 'D.D. Blanchard'
The easy-care D.D. Blanchard magnolia tree is an improved cultivar of an elegant southern classic, with huge, unbelievably fragrant blossoms.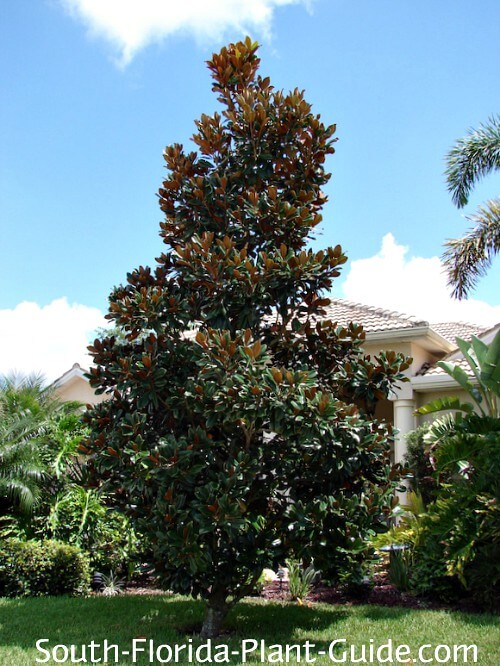 The magnolia flowers are creamy white, contrasting beautifully against the large, stiff, glossy-green leaves with bronze-brown undersides.
The dark foliage complements the usual green-green-green in most yards.
The blooms can be as large as 8 inches across, with a lemony perfume said to be nature's strongest sweet scent.
Just one blossom floating in a bowl of water can send fragrance through an entire house.
This handsome tree makes a classy specimen or accent tree for larger landscapes, or as a single specimen for medium-sized yards. It's too large for small houses and small landscapes.
It works equally well with very manicured landscaping or among more casual touches like ornamental grasses and tropical philodendrons to create an eclectic design.

Plant specs

Evergreen and cold hardy anywhere in Florida, this magnolia can grow to 40 feet.
It does best in a full to part sun location.

This is a slow grower that has an upright growth habit - an oval form rather than a wide-spreading canopy - so you can safely plant things around the tree that prefer sun.

This tree blooms most heavily in spring, then on and off during summer and early fall. It's considered deer-resistant, though nothing is deer-proof.

Plant care
Add top soil or organic peat humus to the hole when you plant. You can also add in composted cow manure to enrich the soil around the tree's roots.

Trimming isn't necessary, other than pruning off low-growing branches to expose more of the trunk. Fallen leaves will need to be raked up occasionally but this tree doesn't make the littering mess other southern magnolias do.

Water on a regular schedule with time between waterings to allow the soil to dry out.

Fertilize with a good granular fertilizer 3 times a year - in spring, summer and autumn.

Plant spacing

Come out from the house about 15 feet.
If you're planting a row of D.D. Blanchard magnolias, place them about 10 feet apart for them to grow together - or 18 to 20 feet apart if you want each to stand alone.

These trees will grow in large containers while young.

---
Landscape uses for D.D. Blanchard magnolia tree

solitary yard specimen
lining a large driveway
privacy screen along the property line
large accent in a row of shrubs or for a garden bed

---
Other trees you might like: Little Gem Magnolia, Hong Kong Orchid