Your Monthly Grow-zine

April 2020

Things to do in the garden this month...

Agapanthus 'Full Moon'
Right now, we need something positive in our lives. And nature can sweep away cares and worries like nothing else can. Spending time at home can be a real boon for your garden. We can do more than just appreciate the beautiful things blooming now, like agapanthus...
...we can do simple tasks like weeding or trimming - even rooting cuttings from what we've trimmed - while enjoying the clean and healthy outdoors!
Cut back overgrown plants. Now is the time to do a hard pruning on fast growers like hibiscus, and a shaping trim on slower growing plants like Japanese boxwood.
ALWAYS water well before doing any hard pruning...wait at least an hour before cutting. I like to do this kind of cut back the day after running my irrigation.

This is a perfect time to cut back leggy plants like cordylines ("Ti plants") and dracaenas.
Cut anywhere on the stalk and a new head or two of foliage will form there. Cut each stalk at different heights to create a full look to the plant once it sprouts.

Move plants. Sometimes things end up in the wrong place. Many plants can be moved if given the same TLC you'd give a new plant from the nursery. For shrubs, water at least an hour before, then cut the plant back (you can never get all of the rootball and smaller roots can't sustain a large top)...do this either before or after moving it. Add soil amendments and water well for the first few days.

Fertilize. If you haven't done this yet, give your plants a good spring feeding. Need more how-to? See our page on Fertilization.

Water once a week if it hasn't rained. Once our the weather grows very hot, run irrigation twice a week. April showers might happen elsewhere but here April and May tend to be dry months.

Freshen up mulch.  Some mulches you can rake and renew, others need to be added to or replaced.

---
Storyteller's Garden
Are you one of those people who like entertaining visitors with interesting bits of fact? Then here are some plants you might want in your landscape.

Some plants have an fascinating history...including these "trees with a past."

The flowers of the Ylang-ylang tree are used in a famous classic perfume.

The U.S. Navy once grew forests of Live Oak trees to build battleships including the USS Constitution, AKA "Old Ironsides."

The Arborvitae tree saved explorers' lives from scurvy in the 1500's because its bark contains Vitamin C.

---
A Bald Cypress tree can live for centuries.

A Bald Cypress, one of the world's oldest trees - estimated to be 3,500 years old - grew in Longwood, Florida, until a meth-smoking addict caused a fire that burned it down in 2012. (She served only 2 years in prison - this article has info, pictures, and a bit of history about the tree.)

Then there are plants that have unique characteristics or legends...

Every bit of the coconut palm can be used...and many countries' economies are dependent upon this palm.

A thirsty traveler can poke a hole almost anywhere on a Traveler's Palm and get enough clean water for a good drink.
Cycads, such as the King Sago Palm pictured, are known as "living fossils" because they've  lived on earth, unchanged, for millions of years.

---
---
What's new at South-Florida-Plant-Guide.com

New page! Landscape in a Box now has a fifth collection of plants under Shade Landscaping...check it out.

Also, I've added this photo to the Plant Page on Buddleia ("Butterfly Bush"), a great shrub to attract butterflies.

---
---
My latest ebooks are here!


"Best of the Grow-zines"


All the best info and ideas from past issues of our monthly newsletter - The Grow-zine!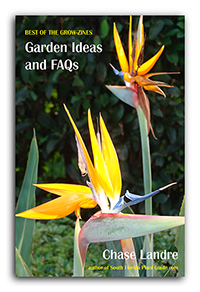 Garden Ideas & FAQs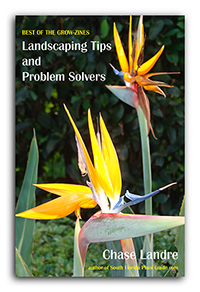 Landscaping Tips & Problem Solvers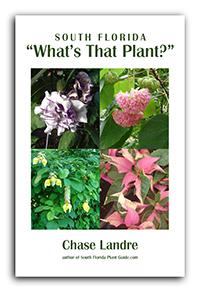 Buy both "Best Of" ebooks & get this one FREE!

---
---
Are you a Snowbird?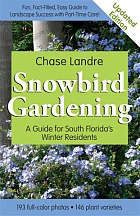 Want to know more about growing a beautiful landscape with only part-time care?
Check out the new, updated edition of my paperback book, Snowbird Gardening.

I've added more plants, more photos and up-to-date info for South Florida Snowbirds.
This new edition features 146 plant varieties - palms, shrubs, trees and flowers - with photos and information about each one.
---
Thanks for subscribing to the Grow-zine!

If you have any questions, comments or suggestions about what you'd like to see included in the Grow-zine - or the website - please let me know!
Chase Landre
---