Your Monthly Grow-zine

May 2020

Things to do in the garden this month...

Petrea "Queen's Wreath" vine
Enjoy the flowers of the season! Being outdoors in a fresh, healthy environment can raise our spirits...and working in the garden burns calories as well!

Shop locally-owned nurseries! Many are open for business, following health guidelines, and need your patronage.

Feed everything. Do a pre-summer fertilization before the fertilizer "blackout" begins. It runs June 1st through September 30th, but not all counties have the same regulations. Call your county extension office to find out the scoop in your area.

Water once a week - or twice a week if temps are very high -  if it hasn't rained.

---
Scaevola - non-stop flowers!
This little plant, Scaevola aemula, is a wonder of a perennial for lots of blooms...it literally blooms year-round.
Sometimes called "Fan Flower," it makes a great groundcover and is also excellent cascading from a standing container, hanging basket or windowbox.

Scaevola grows anywhere between 6" to 12" tall and prefers part sun to part shade. It needs regular water and a well-drained spot. Plant about 2 feet apart.

Trim occasionally if needed to keep it full and in bounds. Fertilize in spring, summer and fall with a controlled-release fertilizer like Osmocote 14-14-14. In a container you can use liquid feed like 20-20-20.

Best as a perennial in Zone 10, in Zone 9B you can grow it in the ground as an annual, or in a pot you can protect in winter.

This plant is salt tolerant and attracts butterflies. It comes in pink or white varieties, but the most common is blue (lavender),

---
Curved vs. straight lines in landscape design
Creating planting beds is more than just putting plants in a garden bed. It's also a way to draw the onlooker's eye where you want it to go.

Straight lines are forceful, dramatic. They lead the eye immediately to a focal point.

Curved lines are softer, more subtle. These are more common in design to create "flow."

A combination of both curved and straight can jump the eye up to the focal point but with a slight softening effect.

---
A visitor asks...
"What can I plant in pots on my long and narrow porch that can take the soot and dust of the parking lot it overhangs? It gets afternoon sun, and I want some color and a tropical look."

I've come up with some plant ideas for things to give you a
tropical, colorful look and that are fine in pots in afternoon sun
and can be wiped off or hosed off when dusty/sooty.

Ponytail palm
Bottle palm
'Auntie Lou' Cordyline (this one can take the most sun)
Clusia (dwarf or guttifera)
Arboricola (green or variegated)
Firecracker Plant
Bromeliad (sun varieties)
Green Island Ficus
Crown of Thorns
Sweet Potato Vine
Baby Sun Rose
Coontie
Dioon (cycad)

Selloum Philodendron
Frangipani
Lantana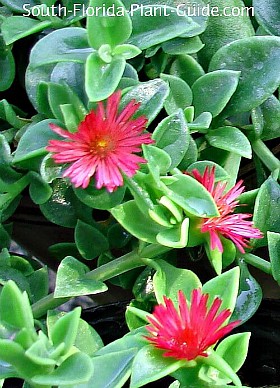 Baby Sun Rose
All of the above are pretty tough plants and should do fine (and
fit!) in your porch's conditions. You can look them all up on the
website by going to the Sitemap.
---
---
What's new at South-Florida-Plant-Guide.com

I've added this picture of a deep red flowering Desert Rose on the Plant Page on this beautiful drought-tolerant plant.

---
---
My latest ebooks are here!


"Best of the Grow-zines"


All the best info and ideas from past issues of our monthly newsletter - The Grow-zine!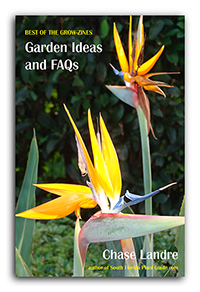 Garden Ideas & FAQs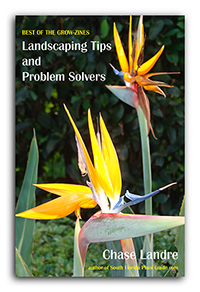 Landscaping Tips & Problem Solvers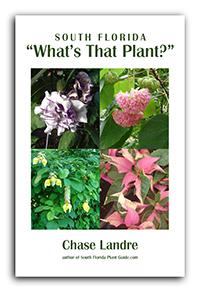 Buy both "Best Of" ebooks & get this one FREE!

---
---
Are you a Snowbird?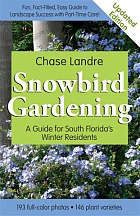 Want to know more about growing a beautiful landscape with only part-time care?
Check out the new, updated edition of my paperback book, Snowbird Gardening.

I've added more plants, more photos and up-to-date info for South Florida Snowbirds.
This new edition features 146 plant varieties - palms, shrubs, trees and flowers - with photos and information about each one.
---
Thanks for subscribing to the Grow-zine!

If you have any questions, comments or suggestions about what you'd like to see included in the Grow-zine - or the website - please let me know!
Chase Landre
---