Your Monthly Grow-zine

November 2021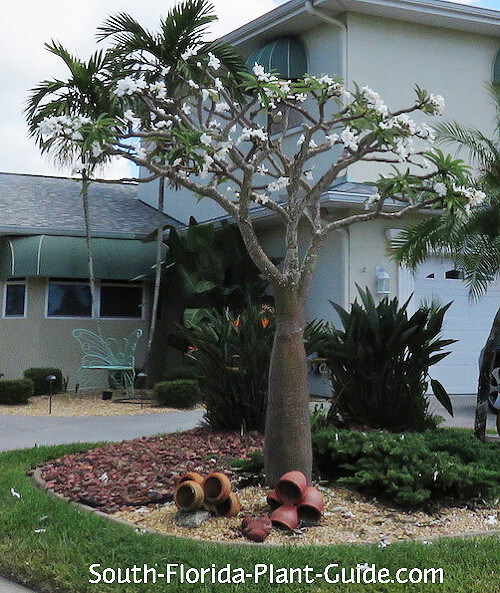 Madagascar Palm in bloom
Things to do in the garden this month...

Enjoy the last of warm weather flowers! Many of our South Florida plants - like the Madagascar Palm pictured - are at their blooming best during warm months, though some like Bougainvillea flower on and off all year, even in winter.

Winter annuals can be planted now - IF the weather has cooled down consistently. You may want to consider a partial shade location (morning sun, afternoon shade) for things like Geraniums and Sunpatiens. Most winter annuals are actually grown in these light conditions and may not love blazing sun until our temps have cooled a bit more. You can leave these plants in their nursery pots in a somewhat shadier spot, planting them in more sun as winter weather sets in - probably in a few weeks.

Apply weed and feed to your lawn. Early November is the time to do this to keep your turf grass healthy and (hopefully) weed-free.

Run irrigation once a week if it hasn't rained.

Be on the lookout for pest damage. If you see some, take cuttings bagged in plastic to your local nursery for diagnosis and treatment options.

---
Kalanchoe
Get cool weather color with things like Kalanchoe (Kalanchoe blossfeldiana), a beauty of a small plant that flowers in autumn/winter.

This is a succulent plant, best in part sun to part shade that stays low and comes in varieties with bright flowers colors in red, pink, yellow, orange and more. The flowers form a cluster above the plant's foliage.
This Kalanchoe blooms for a nice long stretch and then settles down to be a pretty and easy-care groundcover. It's also wonderful in containers.
Slow growing, it tops out at about 12" tall, with scalloped-edged leaves that sometimes produce baby plants. It helps to nip off taller stems from time to time since they can become top-heavy. This is a great plant to share, since cuttings are easily rooted.

Plant 8 to 12 inches apart - no soil amendments are needed. Use in Zone 10 or in pots on Zone 9B.

---
 This is what I mean...

...by too much of a good thing!
I like Muhly Grass, too, but...whoa!

---
What's new at South-Florida-Plant-Guide.com

Lots of new photos - including the Madagascar Palm pictured at the top of this page.
Also...here's a picture of a mature Paurotis Palm, which I've added to its Plant Page.

Additionally, I got a shot of Traveler's Palms with trunks and it's now on that Plant Page.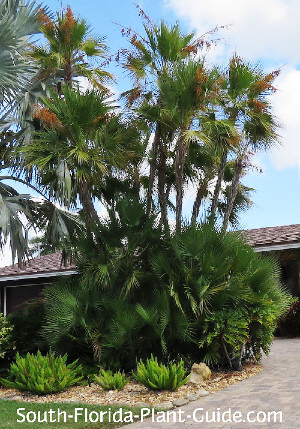 Paurotis Palm
Also...an astute web visitor pointed out to me that the plant I've been calling "Hair Grass" is actually Bamboo Muhly Grass (Muhlenbergia dumosa). I've only seen it sold in nurseries under the name Hair Grass, but that name belongs to a different plant. So I've made the name change on the page for Ornamental Grass. Sorry for the confusion!

---
---
My latest ebooks are here!


"Best of the Grow-zines"


All the best info and ideas from past issues of our monthly newsletter - The Grow-zine!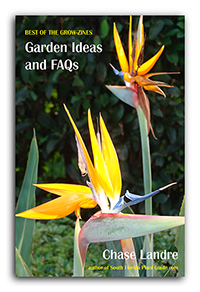 Garden Ideas & FAQs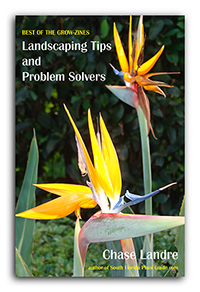 Landscaping Tips & Problem Solvers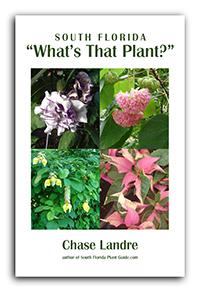 Buy both "Best Of" ebooks & get this one FREE!

---
---
Thanks for subscribing to the Grow-zine!

If you have any questions, comments or suggestions about what you'd like to see included in the Grow-zine - or the website - please let me know!
Happy Thanksgiving!

Chase Landre

---