Your Monthly Grow-zine

October 2019

Ahhh...October weather! Usually cooling off a bit by the middle of the month, this time of year makes working outside (and plant shopping) so much more pleasant!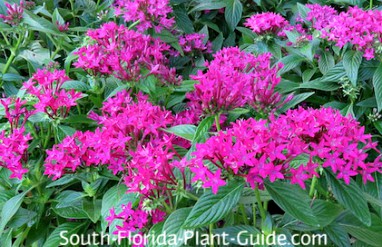 Pentas
Things to do in the garden this month...

Fertilize! Now that the summer fertilizer blackout is over for many of us (check with your County Extension Office to learn of local regulations), our plants need a boost. Our soil has no nutrients of its own, so a good fall feeding will be welcomed.
Feed gardenias and azaleas TODAY! They should be fertilized by October 1st, but with blackout rules, some of us have had to wait till now.

Do any hard pruning before October 15th.

Pull weeds! Rainy season is like a long happy hour for weeds in South Florida. Get to 'em now before they flower and spread seeds.

Water twice a week if it hasn't rained. As long as temps stay hot, our plants still need a regular drink. Once things cool down a bit, we can water less often.

Watch out for pest damage. Take bagged cuttings to your local nursery for diagnosis and treatment options.

---
Fall is a great time to...

 ...visit botanical gardens!
Everything there will be beautiful and the weather comfortable.
There we can see rare and unusual plants, such as the American Oil Palm pictured, growing at the wonderful Kopsick Palm Arboretum in St. Petersburg.

A few years ago, after spotting this big, gorgeous palm (Orbignya speciosa, Attalea speciosa), of course I wanted one! But after some research I discovered there was no real source for it, so I had to be content to admire it at the Palm Park. But that's the beauty of a botanical garden...we can learn about and enjoy things we'll never own.

---
Foxtail Agave

Lime green with soft edges and no sharp spikes, Foxtail Agave (Agave attenuata) is a gem in the landscape.

Though it grows in full sun to partial shade, sun brings out the best lime color. Some sources say protect from noonday sun, but I know a nursery that grows them in full all-day sun.

Foxtail Agave grows to about 4 feet tall, best in Zone 10. It works well as a container plant, if you don't have garden space for it.

(For basic care, see our Plant Page on Agave.)

Foxtail Agave in shade
Foxtail Agave in sun
Not only is it gorgeous in its own right...but also the flower is SPECTACULAR!

To see a photo of this plant's incredible flowers, see this article - scroll down for the pic. Also - this article, again scroll down for the picture.

---
What's new at South-Florida-Plant-Guide.com

I've added this photo to the Geiger Tree's Plant Page.
If you love bright orange flowers, this is the tree for you! It's a small tree that can fit into any size yard as long as you've got a sunny spot.

And, in case you missed mention of it in last month's Grow-zine, I finally wrote a page about me. (You may be in for a surprise!)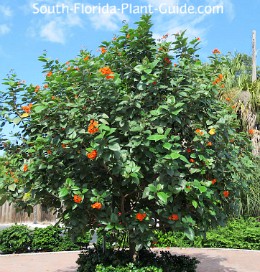 Geiger Tree
---
---
My latest ebooks are here!


"Best of the Grow-zines"


All the best info and ideas from past issues of our monthly newsletter - The Grow-zine!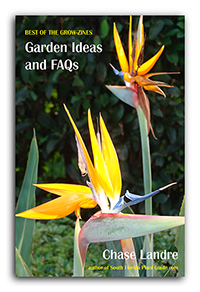 Garden Ideas & FAQs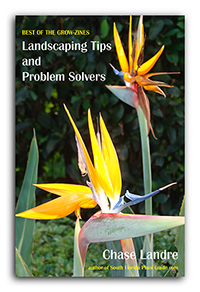 Landscaping Tips & Problem Solvers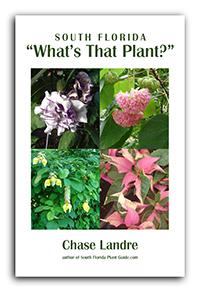 Buy both "Best Of" ebooks & get this one FREE!

---
---
Are you a Snowbird?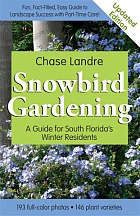 Want to know more about growing a beautiful landscape with only part-time care?
Check out the new, updated edition of my paperback book, Snowbird Gardening.

I've added more plants, more photos and up-to-date info for South Florida Snowbirds.
This new edition features 146 plant varieties - palms, shrubs, trees and flowers - with photos and information about each one.
---
Thanks for subscribing to the Grow-zine!

If you have any questions, comments or suggestions about what you'd like to see included in the Grow-zine - or the website - please let me know!
Chase Landre
---
Take a crash course
in South Florida plants!
Ebooks all about gardening in South Florida! Learn more!