Your Monthly Grow-zine

October 2020

Things to do in the garden this month...

Dipladenia - a type of Mandevilla
Shop for new plants at your locally-owned nursery. Mid-October is usually our favorite weather and a great time for shopping and working outdoors.

Fertilize - everything that needs a good fall feeding will appreciate your efforts!
The fertilizer blackout is officially over...some counties ban fertilizing lawn and garden from June 1st through September 30th  (check with your local Extension Office to find out regulations in your county).
Feed your azaleas and gardenias TODAY. They should be fertilized no later than today with plant food especially formulated for them.
Need fertilizer info? See our page on Plant Fertilization.

Do any hard pruning by October 15th. This gives plants time to sprout new growth before cold weather arrives.

Water twice a week if it hasn't rained...drop back to once a week if things cool down quite a bit.

Look for pest damage. If you see any, put cuttings in a sealed plastic bag and take them to your local nursery for diagnosis and treatment recommendations. Why sealed plastic? So no bugs can escape...and so that nursery staff can open the bag in a controlled environment so that nothing can get out to affect their plants.

---
Staining a Sylvester Palm trunk

A web visitor named Sue contacted me a while back to ask what I knew about staining the trunk of a Sylvester Palm. My answer: nothing!

I wrote her back...

"What a cool idea! I'd never heard of doing this but from all I've read
online it's perfectly safe to do on the basically "dead" parts of the
trunk. I'd think any water-based stain would be fine, though I've read
that it's best to avoid darker colors."
So she went ahead and applied stain - you can see the stunning results on her palm in the photo above. I asked her recently if the color had faded at all and she replied no, that it still looked fabulous!

Sue's palm also has had the "diamond cut" done on the trunk which makes it even more showy.

---
A visitor asks...
"Rain from gutters is ruining my lawn along a walkway. Can you suggest a low height planting that will work with this condition? Zone 10, south exposure and fairly sunny. I need a plant tough enough to withstand the flow...preferably a groundcover that will not invade the lawn."

Groundcovers will all "invade" unless you use an edging barrier. I'd
suggest using Liriope - very tough plant, easy care, small, looks pretty planted in a row or in groups or "drifts."
---
It's very sturdy to stand up to the flow of water and always looks good.
It can also withstand being accidentally stepped on along your walk.

---
---
What's new at South-Florida-Plant-Guide.com

I've added this close-up photo of a Beach Sunflower bloom to the Plant Page on this easy-care groundcover.

These blossoms can also be used as cut flowers for a vase in the house.

---
---
My latest ebooks are here!


"Best of the Grow-zines"


All the best info and ideas from past issues of our monthly newsletter - The Grow-zine!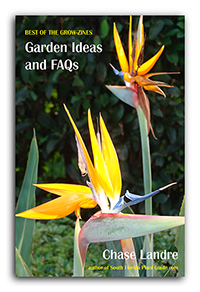 Garden Ideas & FAQs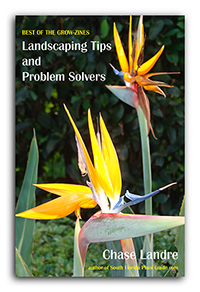 Landscaping Tips & Problem Solvers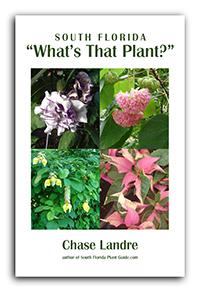 Buy both "Best Of" ebooks & get this one FREE!

---
---
Are you a Snowbird?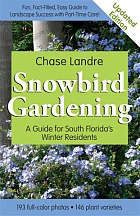 Want to know more about growing a beautiful landscape with only part-time care?
Check out the new, updated edition of my paperback book, Snowbird Gardening.

I've added more plants, more photos and up-to-date info for South Florida Snowbirds.
This new edition features 146 plant varieties - palms, shrubs, trees and flowers - with photos and information about each one.
---
Thanks for subscribing to the Grow-zine!

If you have any questions, comments or suggestions about what you'd like to see included in the Grow-zine - or the website - please let me know!
Chase Landre
---