Your Monthly Grow-zine

September 2019

Our thoughts are with those of you along the east coast - hopefully Dorian's path will continue to move away from Florida and cause as little damage as possible!

Before the storm...

stake young trees, standards, newly planted tall palms
move container plants into the garage or house, lay down those you can't move
move pool cage container plants as far to the interior as possible

---
Things to do in the garden this month...

---
Japanese Sedge
Shop for new plants at your locally-owned nursery. Many carry unique stuff - such as Variegated Japanese Sedge (Carex morrowii), a beautiful 12" tall border plant that likes water. This plant looks like a thinner-leaved, lush and fluffy version of Aztec Grass. It can be grown anywhere in South Florida in partial sun to full shade, requiring more water in a sunnier spot.

Cut back shaggy plants. You can do a hard pruning anytime up till mid-October. Knock Out roses can look unhappy after a hot rainy summer - cut them back now and they'll bounce right back with new growth when cooler weather starts.

Wait to fertilize - if your area is under a fertilizer blackout. To check local laws, contact your county extension office.

Buy fertilizer now for gardenias and azaleas...they should be fertilized by October 1st. If you have to wait till that date because of blackout regulations, you'll be prepared to feed these plants on October 1st.

Water twice a week if no rain.

Check plants for insect damage. Bag cuttings in plastic and take them to your local nursery for advice.

---
'Fireworks' - a pink fountain grass!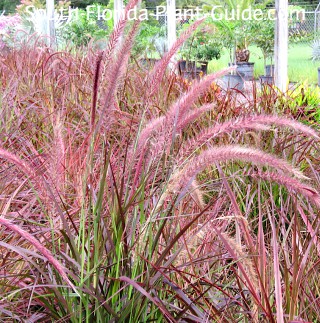 A beauty of an ornamental grass, 'Fireworks' (Pennisetum setaceum) has striped leaves of pink, burgundy, cream and green.
The overall look is a deep rich pink with soft pink arching plumes.

Like other fountain grasses, it prefers full to part sun, and grows anywhere in South Florida.

'Fireworks' grows about 3 feet tall.
It makes an eye-catching contrast to garden greens and plays nicely with things like Snowbush, pink Hibiscus and crotons with pink color such as 'Magnificent' and 'Mrs. Iceton'.

Look for 'Fireworks' at your local nursery.

To see other grasses, see our Plant Page on Ornamental Grass.

---
Donate your unwanted plants

If you're removing healthy plants that you no longer want from your yard, consider donating them to your church or elementary school. Schools sometimes have butterfly or other types of gardens for children to learn about, and some smaller churches may have little money to spend on landscaping.

---
What's new at South-Florida-Plant-Guide.com

I added a picture of the late summer blooms of a mature Schefflera to the Plant Page.

This versatile plant grows in sun or shade, can be left to grow tall or kept about 8 feet.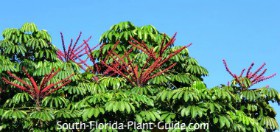 Also...I finally broke down and wrote a page about me. Check it out!

---
---
My latest ebooks are here!


"Best of the Grow-zines"


All the best info and ideas from past issues of our monthly newsletter - The Grow-zine!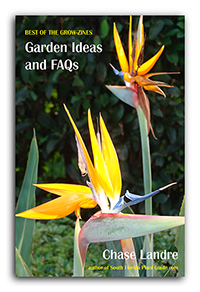 Garden Ideas & FAQs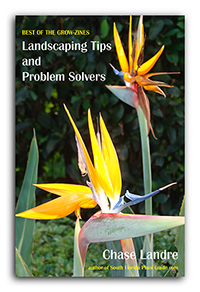 Landscaping Tips & Problem Solvers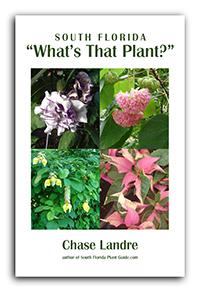 Buy both "Best Of" ebooks & get this one FREE!

---
---
Are you a Snowbird?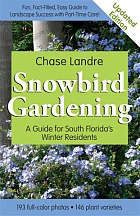 Want to know more about growing a beautiful landscape with only part-time care?
Check out the new, updated edition of my paperback book, Snowbird Gardening.

I've added more plants, more photos and up-to-date info for South Florida Snowbirds.
This new edition features 146 plant varieties - palms, shrubs, trees and flowers - with photos and information about each one.
---
Thanks for subscribing to the Grow-zine!

If you have any questions, comments or suggestions about what you'd like to see included in the Grow-zine - or the website - please let me know!
Chase Landre