Your Monthly Grow-zine

November 2018

Things to do in the garden this month...

Ixora 'Nora Grant'
Visit your local nursery! Cooler weather makes us more inclined to work outside, so this is a great time to shop for color for our gardens...whether it's winter annuals or flowering shrubs such as Ixora.

Remember to water - after Rainy Season ends, we sometimes forget we have to do it ourselves. Run your irrigation once a week (if there's been no rain), twice a week if temps are especially warm.

Watch for insect damage. If you see a problem, take bagged cuttings to your local plant nursery for diagnosis and treatment options.

For a list of what could be wrong with your plant - and ways to treat it - see our page on Plant Symptoms. Or get an overview with our Plant Problems page.

---
---
---
Dwarf Pandanus
This relative of Screw Pine looks nothing like it...no razor-sharp teeth, no dramatic swirly growth, no weird aerial roots. Dwarf Pandanus is simply a lovely garden accent for sun to part shade.

Growing to about 4 feet tall, this plant will spread out but not quickly so it can be contained.

Zone 10 is best, and though it's said to be drought-tolerant once established, give it a regular drink (with time to dry out between waterings) for the freshest look.

Use it to give a tropical touch to your garden or to accent deeper greens in the landscape. Plant 3 feet - or more - apart.

---
Creating art from nature
When award-winning artist Patti Kraft picks up fallen palm fronds from her yard, she doesn't haul them to the curb for trash pick-up like the rest of us. She uses them to create stunning and unusual works of art!

Patti says...

My love of the outdoors has created a passion for exploring nature's intricate details.  I have gardened in the Pacific NW, the desert SW, at 9000' in a mountain climate, and in south Florida, where I create sculptured baskets out of Palm fronds.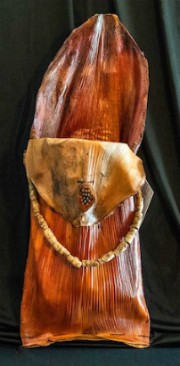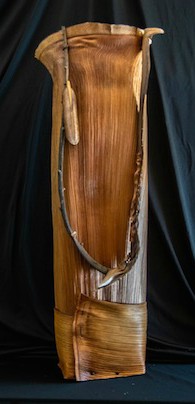 Working with natural Palm Sheaths I have found a way to repurpose what most people discard, preserving and utilizing the Sheaths with unique and handmade designs.
The process takes about two weeks and steps include gathering (I use mostly Foxtail and Areca palms), soaking in a solution for about three days, hand-shaping/molding, sewing, embellishing (with natural materials such as seeds, nuts, carved bone, shell and horn), drying, and applying a hand rubbed finish.  A card includes the details of all the materials used in each piece.
I currently sell at art shows near my hometown of Englewood, FL, and will be displaying and selling at The Dancing Crane Gallery, 1019 10th Ave. W, Bradenton, FL, the months of December through March.

NOTE: These pieces would make wonderful one-of-a-kind Christmas presents! If you want to contact Patti about prices and ordering, use my contact form and I will pass your info on to her (she's still in the process of setting up a website).

---
What's new at South-Florida-Plant-Guide.com

---
My latest ebooks are here!


"Best of the Grow-zines"


All the best info and ideas from past issues of our monthly newsletter - The Grow-zine!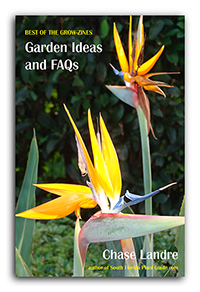 Garden Ideas & FAQs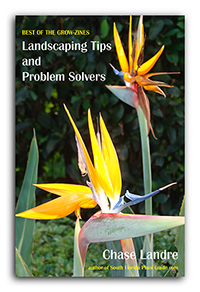 Landscaping Tips & Problem Solvers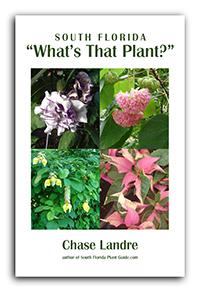 Buy both "Best Of" ebooks & get this one FREE!

---
---
Are you a Snowbird?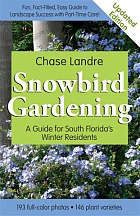 Want to know more about growing a beautiful landscape with only part-time care?
Check out the new, updated edition of my paperback book, Snowbird Gardening!

I've added more plants, more photos and up-to-date info for South Florida Snowbirds.
This new edition features 146 plant varieties - palms, shrubs, trees and flowers - with photos and information about each one.
---
Thanks for subscribing to the Grow-zine!

If you have any questions, comments or suggestions about what you'd like to see included in the Grow-zine - or the website - please let me know!
Happy Thanksgiving!

Chase Landre