Your Monthly Grow-zine

March 2021

Things to do in the garden this month...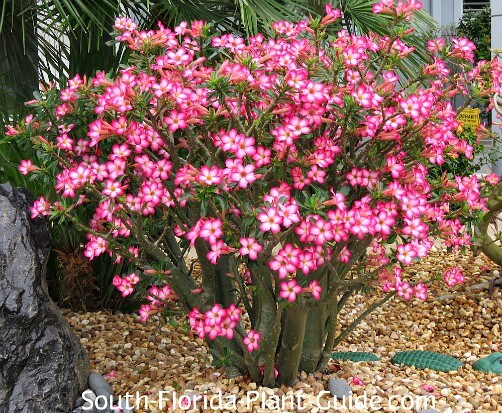 Desert Rose
Get ready for flowers! Consistently warm weather will soon be here and our flowering plants will reward us with colorful blossoms, like the Desert Rose pictured.

March is the start of our busy time of year. March 15th or later is the time to prune back shrubs and fertilize plants. Apply weed and feed to the lawn early in the month.

Gardenias and azaleas should be fertilized only after their spring bloom is over. Use fertilizer specially formulated for these plants.

Run irrigation once a week if it hasn't rained.

Check plants for bugs. See something that doesn't look right? Bag cuttings and take them to your local nursery for diagnosis and treatment options.

---
Create a Sunset Garden

Recently I looked over at a neighbor's property and thought the orange color of late day sun was shining on his hedge...until I realized the hot spots of color were coming from his Flame Vine hedge itself!

Our sunsets in South Florida are spectacular, so why not enjoy the blazing glow of these colors any time of day in our landscaping?

Start with orange...lots of it. This should be the main color.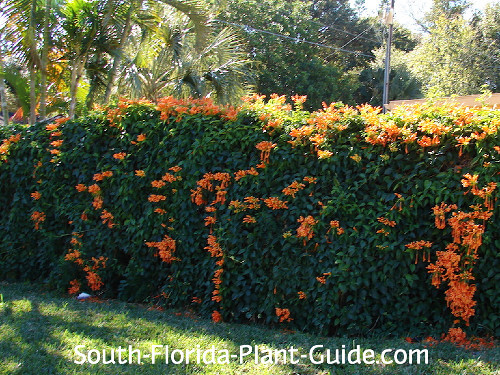 Florida Flame Vine
Other oranges might include Heliconia, Geiger tree, and orange Bird of Paradise.

Then add some golden yellow...

Other yellows include yellow Maui Ixora, Thryallis, and Baby Sun Rose.

Top it off with a touch of purple...

Add a hint of deep blue...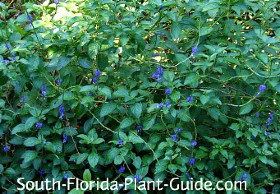 Blue Porterweed
You could mix in crotons with orange highlights to set off all the other colors in the landscape.

---
---
What's new at South-Florida-Plant-Guide.com

I added this photo of a Thunbergia 'King's Mantle' shrub to its Plant Page.

This fast grower is nearly indestructible - and, for those of us who love purple flowers, it's a garden show-stopper.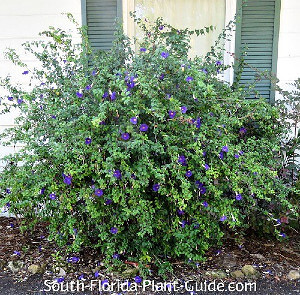 Thunbergia
---
---
My latest ebooks are here!


"Best of the Grow-zines"


All the best info and ideas from past issues of our monthly newsletter - The Grow-zine!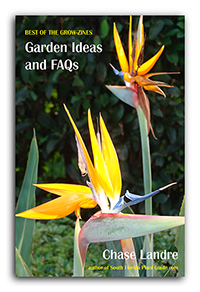 Garden Ideas & FAQs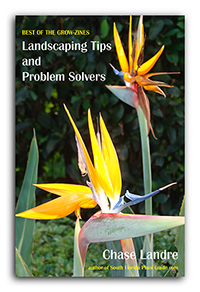 Landscaping Tips & Problem Solvers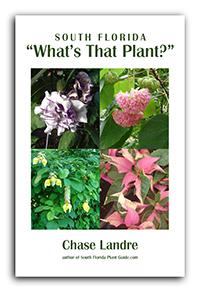 Buy both "Best Of" ebooks & get this one FREE!

---
---
Thanks for subscribing to the Grow-zine!

If you have any questions, comments or suggestions about what you'd like to see included in the Grow-zine - or the website - please let me know!
Chase Landre

---